I'm on my way back from Zell am See in Austria to Radolfzell at Lake Constance (Germany) after my 3rd winter edition of Magento Developers Paradise. Here's my recap.

The official event started on Sunday evening and ended on Wednesday morning, but I already went to Kaprun by train (mobile office) on Friday, so that I could take full advantage of the glacier with its beautiful ski resort.
Saturday, Sunday and Monday were perfect winter sport days with lots of sun and very good snow conditions, although we did not have as much powder as the year before. So, unfortunately, I could not take part in the much anticipated Freeride Monday.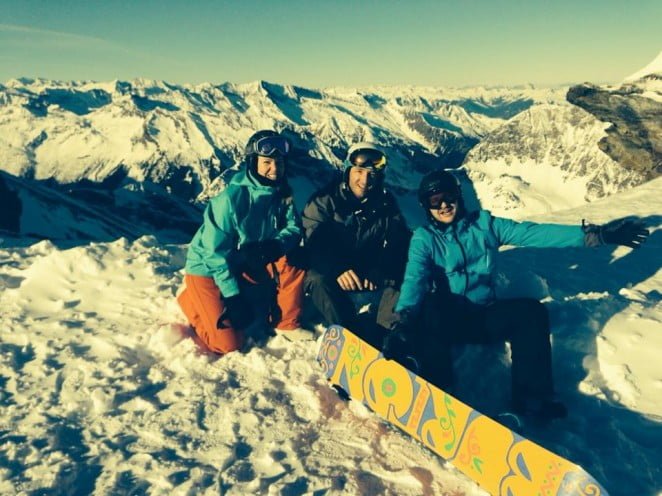 Around 40 community members from the US, Ukraine, Netherlands, Austria, Germany and Switzerland (if you read this and attended from another country, please drop a comment), as well as a couple of Magento core developers found their way to Austria to have fun in the snow, have some light discussions around Magento and in the evenings some in depth presentations about Magento.
Magento Presentations Day 1
Anton Kril from Magento Inc. (USA) spoke about the basic code internals and concepts of Magento 2 like interception. I really loved the hand drawings in his slides and the fact that he encouraged community developers to join the work in progress on Magento 2 on Github. I'm convinced he really meant it, so if you're an ambitious and experienced PHP and/or Magento developer, do not complain about the fact that Magento 2 has not yet been released, but join forces! In the Q&A part of his presentation he answered the unasked question: Magento 2 will be released pretty soon, but he wouldn't tell us when. So it's up to you to interpret what pretty soon means, but I'm pretty confident that it will be released before the final version of osCommerce 3.
Maksym Iaroshenko from Eltrino LLC raised the question if there's anything above and beyond frontend and adminhtml areas? An interesting approach of using Magento as a framework without touching neither the Magento frontend nor backend code.
Sylvain Rayé from Diglin GmbH (Switzerland) varnished us, i.e. he spoke about solutions how to make Magento faster by using Varnish Cache. His presentation definitely helped me to get some additional insights into my knowledge about Varnish Cache and his Achmed the dead computer scientist humor and slides made it quite entertaining, too.
Dr. Nikolai Krambrock from code4business Software GmbH (Germany) elaborated on individualized products and tier prices that his company developed for a Swiss Magento Enterprise store hosted by Openstream Internet Solutions (yes, we do Magento hosting, too, and even know how to use Varnish together with Magento)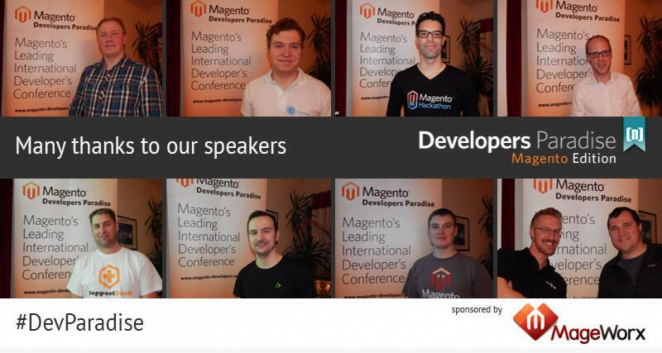 Magento Presentations Day 2
The famous Magento doc Ray Bogman from SupportDesk B.V. (Netherlands) explained the truth about mobile SEO (search engine optimization) based on his experience with the biggest Dutch Magento condom store
My room mate Christian Philipp from integer_net GmbH (Germany) told us why it's not a good idea to let merchants install Magento extensions on their own, especially if they think they need 35 of them. Sometimes you have to tell your merchants that less is more (you actually have to tell them regularly!)
Anton Makarenko from Magento Inc. (USA) is in charge of the application framework for Magento 2. He's the one who did the PayPal integration for Magento 1, btw. His presentation about overall layout improvements in Magento 2 started at around 9:30 p.m., but he was still able to capture the audience's attention and reveal some of the deeper architectural thinking that went into Magento 2. Dealing with layouts in Magento 2 will be more sophisticated and refined than in Magento 1 and should make a frontend developer's life much easier.  

The goals of layout improvements are:

 simplified customization, 

easier upgrades and 

better code quality. Magento 2 will also have a schema (XSD) to validate XML files, but this is still work in progress. If you want to get an overview of the layout, conceptual and systematic improvements in Magento 2, check out the latest webinar.

Unannounced Presentations
Dima Soroka, former lead architect of Magento, gave an overview of the strategy, features and directions of his new brain child, the Oro platform and OroCRM, a new open source customer relationship management system based on the Symfony framework. An extension to connect Magento and OroCRM has already been released 2 weeks ago, so OroCRM will be the CRM for Magento. They even extended the Magento SOAP API to get additional data from Magento into OroCRM. Dima encouraged everyone to check out OroCRM and have a look at their openWiki in order to

 participate in building the inline help and tips knowledge base. They will post more information about it on their blog shortly. Your chance to be an early adopter and even be part of yet another awesome open source community. Don't miss it!

Guido Jansen, one of the founders of Dutchento, surprised us with a non-technical talk about the future of the Magento community. He was neither encouraging Magento forks, nor discrediting eBay in any way, but he raised some valid questions about the continuity of the Magento ecosystem. If you're curious what he and other community members are up to, subscribe to this and/or Guido's blog.
Arthur from MageWorx (US) came in as a last minute sponsor of the Developers Paradise and arrived in Austria after driving 5000 km exploring various European countries. He shared some rather unexpected thoughts at the end of the last evening which were quite in resonance with what Guido said just minutes before. One might have expected the traditional sponsor bragging, but he instead spoke about the secret of giving: The more you give, the more will be given to you. Give help and support. Give your time and money. Give your love. Giving is a long-term investment with 1000%+ interest. And Arthur not only spoke about giving, but actually gave away many Magento thermos flasks and mugs as a gift to all participants who were interested.
The following video was Arthur's first attempt 3 years ago to produce a short movie to advertise MageWorx' SEO extension. Although initially planned, he never produced the 2nd episode, though.
I'd like to thank the whole Meet Magento team for creating yet another opportunity to bring together like-minded folks from the open source e-commerce scene. They just relaunched the meet-magento.com website  on WordPress (formerly TYPO3) and de.meet-magento.com for the German Meet Magento. I really like the new design! Don't forget to buy your ticket for the next event. Up next are Meet Magento Spain and the Magento Online Hackathon Worldwide.
I'd also like to thank Meet Magento for the Magento U Developer Certification Exam voucher!
That's it for this year's recap. If you cannot wait until next winter edition, try the summer edition of the Magento Developers Paradise. I've been there once, too, but have to admit that the winter edition is my favorite. Happy Magento coding!